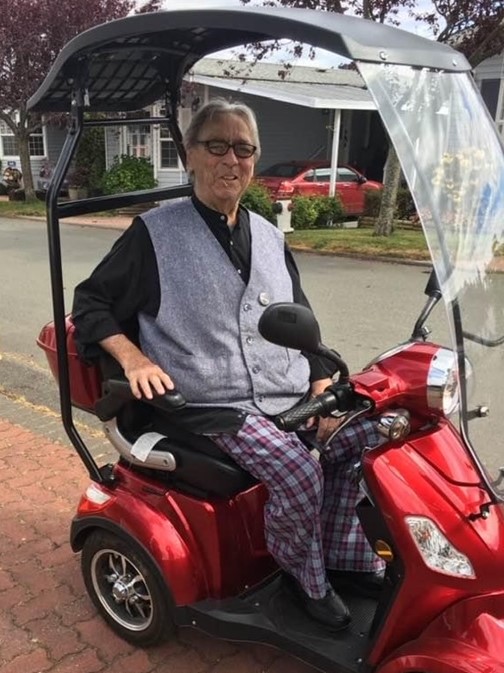 Robert Lucien Demers – January 9,1941 to June 29, 2021
It is with great sadness that we share the passing of our Dad, Husband, Papa, Poppy (great) and friends to many! Bob loved his family – his wife Barbara (predeceased) his son Bobby (Liora), daughter Michele (Dave), Grandchildren Cassandra, Chelsey, Owen, Ethan and his 1st Great Grandchild Camden who he simply adored.
Bob spent his career "fighting fires & saving lives" – as a proud member of the North York Fire Department.
Bob was living high right up until his untimely passing. Bob loved an audience, and his family and friends enjoyed his quick wit and zest for life – he will be missed but never forgotten.
Thank you to Dr. Ambrose Marsh for providing "old school" personal care over many, many years! Enjoy your retirement Dr. – well deserved!!
If so inclined, donations appreciated to the ALS society (Victoria Chapter) or the Heart and Stroke Foundation.
The gift of the gab, a smart, quick wit
A friend to many, with jokes always a hit
Serious about sports, nature and news
Lover of junk food, great at crossword clues
An adrenaline seeker, conscious or not
Proven independent man, tougher than he thought
Big fan of music, who always loved to dance
Player of lottery tickets whenever he had the chance
A widow who thrived, for just a year shy
Along with us, Gramma is proud of everything he tried
Level two chef, sale only, seniors-day shopper
Expert at shredding, deleting & treating his care aids proper
Fireman, husband, father of two
Promoted to great-grandpa, was a wish come true
But to me, you're my Papa who I share with three more,
You have been everything I needed, my heart is so sore
Together with Gramma, may you both rest with such peace
Comfy in love, sporting only the best fleece
With love,
Cassandra
---