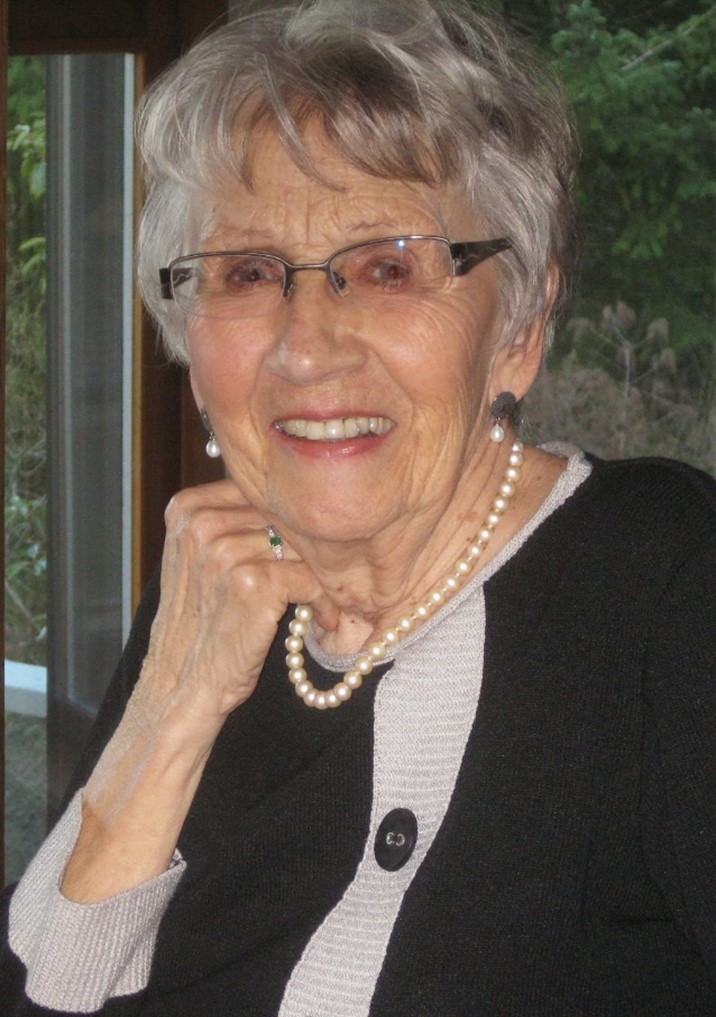 Patricia Caroline Frances George (Wood) February 27, 1930 – February 26, 2021 (Born Regina, SK)
Pat died gracefully and peacefully at Greenwoods Eldercare LTC facility on Salt Spring Island where she had been for her last couple of months.
Predeceased by Bill, her best friend and husband of 59 years; son Jeffrey; sisters Marg Potts and Helen Wells; brother Dr. Angus Wood; and parents Treda and Frank Wood.
She and Bill raised four children in Regina, Calgary, and Tsawwassen—Jeffrey, Jonathan, Philip (Joy), and Christine. Her grandchildren Colin, Claire, Paul, Stephanie, Christopher and step grandson Daniel brought much joy, laughter and pride to their grandparents. She had the pleasure to hold her great grandchildren Piper and Sophie!
Pat enjoyed a happy, full life, proud to be a fourth-generation Canadian. She graduated from U of S with a BHSc Great Distinction degree. This was reflected not only in her personal style, but in the design and decor of several homes and gardens. Her experience as a docent at the Glenbow Museum, Calgary, inspired a lifelong interest in aboriginal culture and art.
Always an avid reader, Pat worked part-time at the South Delta Library for 17 years, where she became "Storytime Lady" for over seven years and touched the lives of many young children. She was a member of South Delta University Women's Club for 39 years, serving in several executive positions, and enjoyed her travel group, bridge club and scholarship committee. She loved to sing and was a member of the Delta Community Choir for many years. She also enjoyed quilting, crewel work, and decoupage—creating many beautiful works of art.
Pat and Bill loved their travels and visited 33 countries, enjoying every major art gallery in the world! She was a passionate gardener and with Bill's help created an idyllic garden. Pat and Bill loved the theatre and live musicals, but especially the after-show critique with their good friends and special desserts.
She loved to bake. Her butter tarts, pastry and cinnamon buns were irrefutably the best and very much loved at Christmas. On the other hand, her golf game wasn't so great, but she enjoyed all her outings with the gals. In her later years she looked forward to all the coffee outings with her friends in Tsawwassen.
Many thanks to all at the Waterford for the incredible support that Pat received for several years and to all at Greenwoods Eldercare on Salt Spring for their wonderfully compassionate and respectful care in these last few months.
---