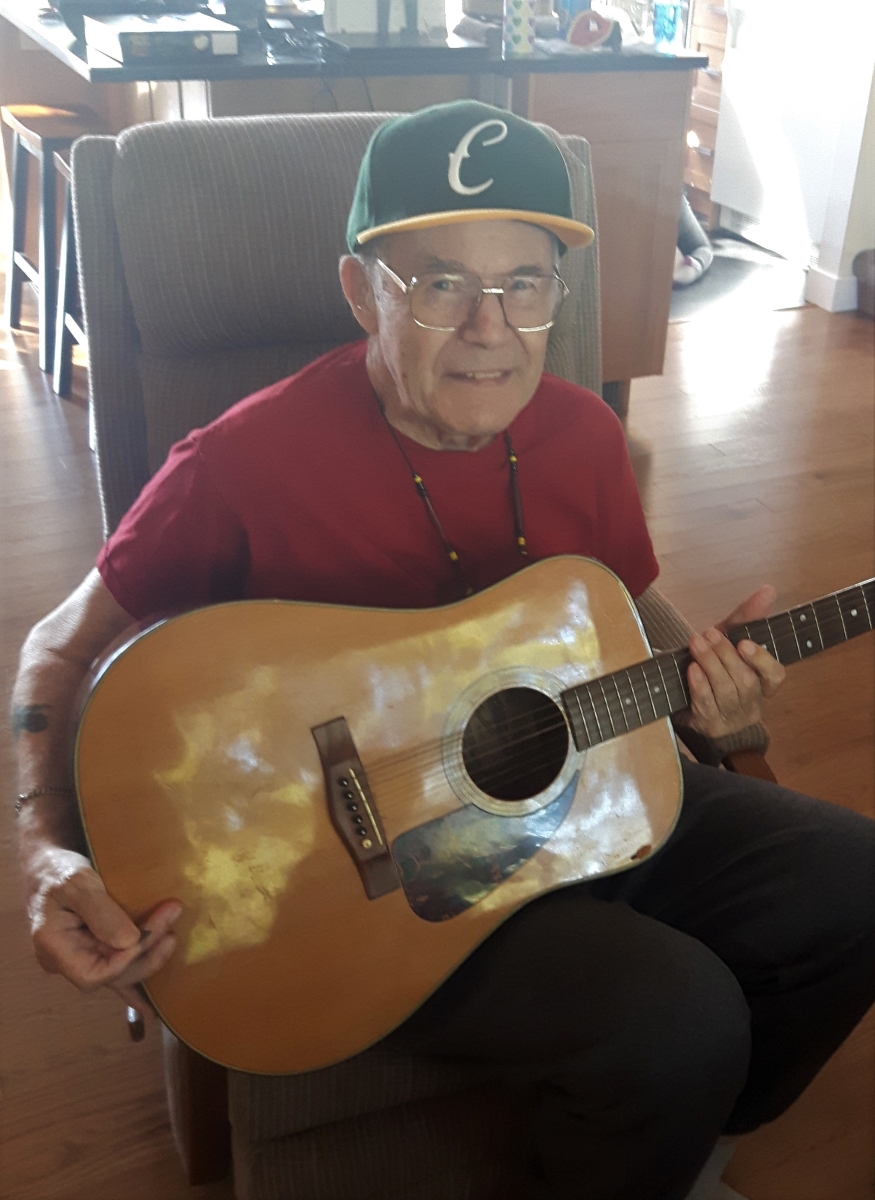 March 27, 1939 – October 26, 2021
Mike or "Uncle Mike" as he was sometimes known, passed away peacefully  in his bed at home in a wonderful care home filled with caring staff.  One of the staff members played Pretty Paper by Willie Nelson for him. Recently he enjoyed numerous calls with family, a "Goodnight Grampa!" from his grandchildren and a lovely Thanksgiving dinner with family on October 11th. Mike will be greatly missed by his wife at one time, the Mother of his children and dear friend Ara (Barbara), his children, Carmen and Ryson, his grandchildren, Skyler and Evangeline (Evie) and his brother Bill (William) and his sister Maggie (Maxine) as well as his nieces and nephews. He was a very funny, caring, entertaining and charismatic man.
Born in Montreal, Quebec. Mike was a man of many, many skills and trades.
Most prominently as a talented and skilled musician and singer, the head commercial diver for Vancouver, BC and as a surveyor and carpenter. He often shared fond memories of Galiano Island and of his days attending St. Michaels University School.
He had an insatiable desire to learn about the world. He loved change, variety and he loved to travel. He loved to read National Geographic (and his grandson Skyler is so similar to him in that way and does as well).
Dad was very charismatic with a beautiful rich and resonant singing voice in his performing songs whether it be by Ian Tyson, Gordon Lightfoot or Johnny Cash (or another favorite artist) but also in his social life. He would strike up conversations with anyone and everyone – even the attendant at a gas station. He was beloved in every place he lived. His biggest joy was in being helpful and useful whether helping his siblings as a child or helping his wife and kids. When living in various homes he would often befriend certain residents and do things to cheer them up or make their lives better. He had many friends and people he cared about among the staff as well. What he would want more than anything is that no one be stressed about him. He lived a very long and exciting life. Like a cat with multiple lives, he could have met his finish line in the past several times but never did…like some kind of miraculous magic always protected him, he always pulled through no matter what he was going through.
In his last days, very inspired by his creativity and passion for music (and the fact that Ian Tyson is 87, now 88 and still going strong) he was exceptionally happy!! Playing guitar again, his next plan was to get back into playing harmonica again as well.
In lieu of flowers, the family would appreciate donations to a dog shelter or SPCA as Dad loved dogs.
---