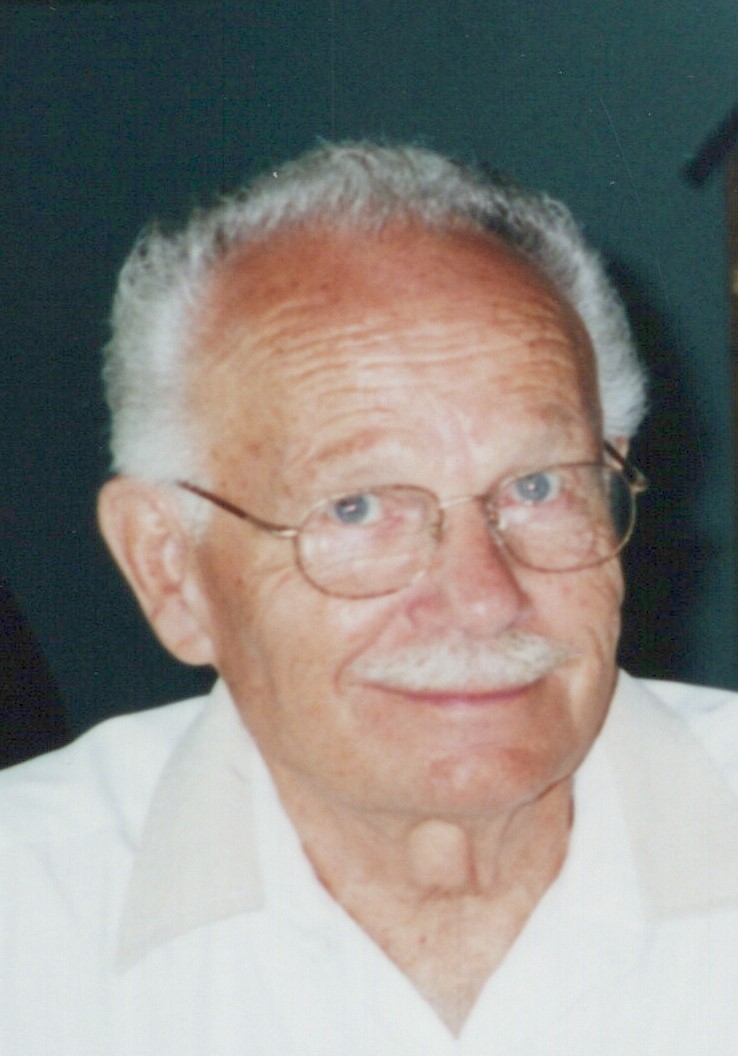 (Clayton) Roy Watson was born on April 7th, 1923. He was one of those rare men whose grace and integrity left a mark on everyone he met. His honesty and good humour were infectious, whether in the rare woods shop, the golf course, or the grog shop.
His childhood was less than ideal. He was born Clayton Roy Erickson and until an Ancestry DNA test taken in 2015 proved otherwise, he thought his father was his mother Dorothy's husband, Casey Erickson. When Roy was three, Dorothy and Casey split taking his three siblings and leaving Roy with William (Bill) Watson, who turned out was his biological father, and his wife Nell.
Roy would have good things to say about the next four years of his life, until his stepmother Nell committed suicide when Roy was seven, leaving Bill and Roy alone. Throughout his life Roy would relate his "stories" to his children, grandchildren, friends, and relatives. Sadly, there were very few good stories to be told from age seven to 17.
One bright spot during that period was a visit from his brother George (Keith) Erickson, who was older by two years. Roy looked up to him and described him as stronger, faster, and tougher than he was.
At age 16, Roy started with the CPR as a fireman. Bill was a "hogger" (engineer) and Roy also soon became a hogger. Roy would mention at this point, if he were authoring this obituary, that Bill drove the first steam engine into Assiniboia and Roy drove the last one out.
At the age of 17, following in his brother Keith's footsteps, Roy joined the Canadian Armed Forces as a sailor in 1940. He spent the first half of WWII in the Pacific where on one occasion he had to take the helm of the ship he was on for a night during a typhoon with winds up to 100 mph and seas over 80 feet high.
His brother Keith was killed in England on May 30th, 1941. Upon hearing the news, Roy began a campaign to be moved to the east coast so he could see more action. He didn't think it was fair that Keith who was faster, stronger, and tougher should die and he should live.
While in St. John's, Newfoundland, Roy had a daughter with his girlfriend at the time. Her family were planning to give the baby up for adoption so Roy contacted Bill to see if there were any relatives or close friends who would like to adopt a daughter. At the age of 22, Roy travelled with his daughter Marlynn from St. John's to Sarnia. He would describe this trip this way, "If you want to know what I think God is, it was the way people treated me during that trip". The stewardesses looked after Marlynn on the planes and made sure she had clean diapers and was fed while Roy tried to get some sleep. When he didn't have a place to stay someone would offer a hot meal and a warm bed. He and Marlynn were passed from one loving stranger to another and one, in fact, was responsible for finding her adoptive family.
Marlynn found Roy and reached out to him in the late 1970s. The first family reunion took place in Saskatoon with Marlynn and her three sons, Chris, David, and Mark. Roy was very happy to have this new part of his family and visited and received visits many times over the years.
After the war, Roy returned to Regina and the CPR. He worked for the CPR for a total of 42 years. He loved steam engines as it took some skill to run them efficiently – diesel locomotives "not so much", he would say.
For the ten years immediately following the Second World War, Roy was a bachelor and his life was filled with bachelor things. Roy met his wife to be, Marlene Dahlman, when he was 32. On July 14th, 1957, Roy married Marlene and was welcomed into a large, loving family where he was a beloved brother-in-law to Marleen's seven siblings and Uncle Roy to 19 nieces and nephews. By then he had quit drinking and swearing. He didn't quit smoking until he was 45. Roy and Marlene lived in Assiniboia for a time and then moved to Saskatoon in 1963.
Roy decided at that point in his life that he might want to be a minister and started taking classes at the U of S in 1964. He particularly liked philosophy and far eastern studies classes and, after taking a number of them, he decided that Christianity did not have a monopoly on wisdom and chose to remain an engineer. From 1964 until 1967 when the family moved to Montgomery Place, Roy and Marlene had U of S students board with them. One of those boarders, Bob Wilson, became a lifelong friend.
While his children Jay, Lonni, and Paul were young, camping was the summer holiday activity. Many summers were spent in the mountains of British Columbia. Roy liked sailing and bought his first sailboat with the proceeds of his father Bill's estate.
Later when grandchildren came, he tended meticulously to the pool that Marlene and the kids loved so much. Kelsey, Gage, and Ronin (Jay's children), Clay and Per (Lonni's sons), and Sierra (Paul's daughter) all remember their Papa pouring them drinks of pop at his bar and how he made sure they had lots of pool toys…just make sure they get put away in the right place!
Roy could fix just about anything. He would maintain his vehicles himself, he could do plumbing, carpentry, and electrical work as well. If he didn't have the right tool for the job he would make one.
In 2003, Marlene was diagnosed with multiple myeloma. Roy nursed her through a five year battle with that cancer, and they were able to enjoy their 50th wedding anniversary together. A year after Marlene died in 2008, his daughter Lonni tempted him with a move to Vancouver Island to escape the harsh Saskatchewan winters.  When she showed him he could live in a brand new townhouse overlooking the 13th green at Crown Isle Golf Course in Comox, he said "I'll start packing my garage on Tuesday".
Roy spent five years at Crown Isle, golfing weekly with the Britannia men's group and curling with his good friend Gene who he met his first week in Comox.  Gene and his wife Joyce became dear friends to Roy as did their friend Josie, who shared his love for wood.  Roy taught Josie how to turn wood as he continued to create his works of art out of exotic wood and particularly burls.  Once Lonni asked him how he decided what to make out of each piece of wood.  He said, "I don't, the wood tells me what it wants to be".
When Roy turned 90 he decided it was almost time to give up his driver's licence, which meant he needed to be within walking distance of places he needed to go.  Lonni found a townhouse closer to her in Sidney, with a big garage for his expansive tool collection. He spent six years in that home walking to and from the grocery store for stew ingredients and the 'grog shop' for his favourite dark beer.  Roy would be spotted by Lonni's friends in Sidney on occasion, but by the time they had a chance to call his name he was gone.  He challenged himself to make the journey in less time with a lower heart rate.  Here he developed a close friendship with Carol, who would help him garden and hash out US politics as presented on MSNBC and CNN.
At 96, Roy and Lonni decided it was time for him to live where more help would be available should he need it and where he wouldn't have to worry about the daily grinds of cooking and cleaning.  In November 2019 he moved to an assisted living residence in Sidney where he spent the rest of his days.  This turned out to be a good decision when, in March, the world turned upside down due to Covid 19.  Like many others, Roy was confined to his room for months as the health care system tried to protect our seniors.  Although he was a self-proclaimed loner, this isolation was difficult for Roy and took a toll on him emotionally and physically.  In mid-October he experienced a compression fracture in his back which was the beginning of a swift decline in health.  Roy died peacefully in his home with Lonni by his side.
In death as in life, Roy received the cards he was dealt without complaint. Even in his last days, which thankfully some of his children and grandchildren were able to share, he needed very little help as he wanted to do things himself and didn't want to put anybody out. As anyone who has ever met him will know – he truly was a gentleman.
Due to Covid restrictions, a celebration of life will be held in Saskatoon at a date when family and friends can safely come together.
---