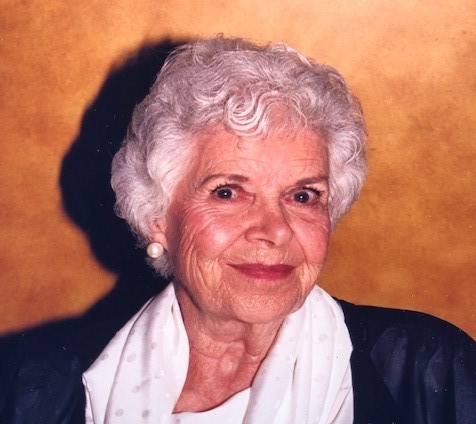 Our beloved matriarch Chrissie Frances Calderhead (nee Noonan) passed away peacefully on June 10, 2021 in Victoria, British Columbia, Canada at the tender age of 103.
Chrissie was born December 24, 1917 in Hythe England. She will be fondly remembered by friends and family as elegantly beautiful, caring and spirited. She spent her youth in South Dakota with her sister Jean. She raised her three children Ken, Carroll and Janis in Vancouver with her husband Mort Calderhead, whom she married in 1935. Chrissie and Mort divorced in 1958.
For a time, Chrissie owned her own Hallmark giftshop on Denman Street called Apropos. She also worked at Palm Dairy and as a salesperson at Woodwards in Vancouver. After retirement, Chrissie moved to Vancouver Island where she enjoyed spending time with family. Over the years, Chrissie hosted many family holidays including at "The Shack" at Qualicum Beach, creating bonds and memories we will all forever cherish. She travelled the world with her companion Ed Gudewill, hunting, boating and attending BC Lions football games.
Chrissie is survived by her daughters Carroll Olson and Janis Rosevold, eight grandchildren, 14 great-grandchildren and 8 great-great grandchildren.
She was a beautiful woman inside and out and lived a long and wonderful life. She will be greatly missed by all.
---