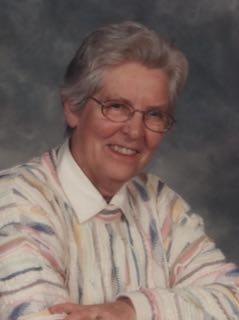 It is with great sadness that we announce the passing of our mother/grandmother/great-grandmother, Anne Mary Sharp, at Resthaven Lodge, Sidney BC on June 23, 2023.
Anne was born in Lethbridge Alberta on May 11, 1927, the youngest child of Annie and John McNeill. When she was 10 years old her father passed away, but with family and community support Anne was able to remain in school and graduated from High School. She then went to work at the Veterans' Land Act office, where she met a handsome young soldier, Frank Sharp, newly returned home after serving abroad in the Second World War, and it was love at first sight. They were married in 1948, as soon as Anne turned 21. Their first child, Janet was born in 1949, followed by another girl, Elizabeth in 1952 and finally a son, Peter in 1953.
When Peter was a mere 6 weeks old, the family moved to Austria where Frank was employed as a Canadian Immigration Officer. The move entailed a train journey from Lethbridge to Halifax, crossing the North Atlantic Ocean in February, then another train to Linz, Austria where immediately upon arrival, Frank was spirited off to work, leaving Anne to find her way to a hotel, burdened with all the luggage and 3 young children. Despite not speaking a word of German, she managed. Not bad for a lady whose sole travel experience up until that date had been a car trip from Lethbridge to Calgary!
And she continued managing and adapting. As Frank was posted to different counties (Austria, Germany, England, and the US), she looked after her family, learned to speak German, dealt with different education systems, acted as hostess for diplomatic cocktail parties, and along the way developed many lifelong friendships in both the diplomatic, and the local communities.
After Frank's premature death in 1976, She had to re-invent herself again. She settled in Edmonton and started working, first as a clerk and then as a counsellor for Manpower Canada. When the grandchildren started arriving, she moved into Grandma mode, and was a success at that too. Whether dealing with a family medical crisis, or simply frazzled parents in need of a break, she could move into a home, take over the household chores and successfully manage the often-complicated schedule of grandkid activities.
Anne loved family activities, classical music (especially opera), cultivating friendships and ocean cruises. After her retirement she became a world traveler, visiting every continent except Antarctica, and relishing the chance the explore different locations and cultures.
Anne will be lovingly remembered by her children, Janet Addison (Paul), Elizabeth van Husen, Peter Sharp (Joanne), and by her grandchildren, Rachel Shaw, Deborah Lambert, Robert Addison, Erika van Husen, Steven Sharp, Ian Sharp, Devon Sharp, and 13 great-grandchildren. She will be greatly missed.
---