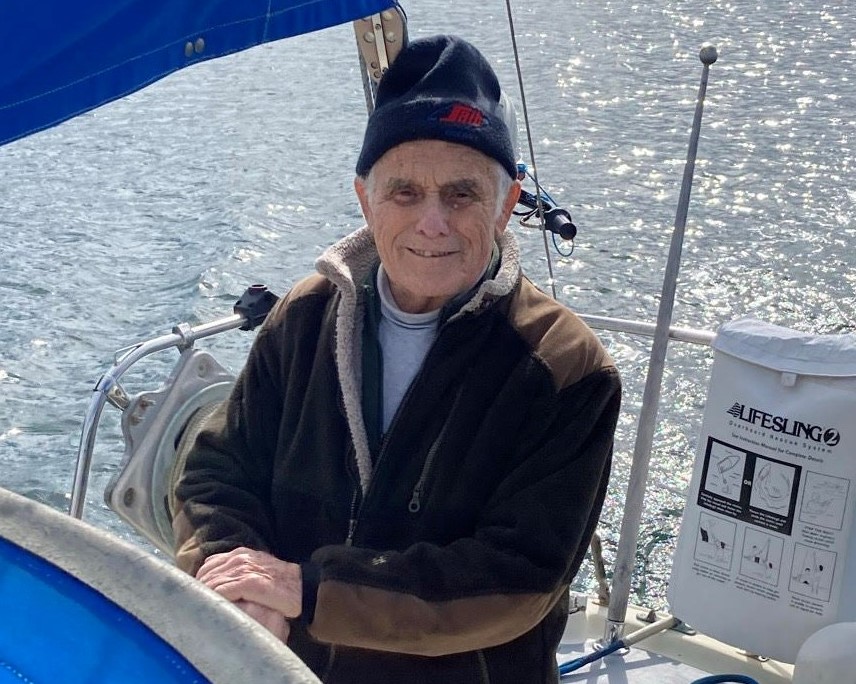 Doug Robinson sailed away August 9, 2021 at his home in Victoria with family. He left this world peacefully with the same fortitude, deeply principled values, courage and dignity as how he lived his entire life.  He was born July 16, 1930 in Nelson, BC during the Great Depression. At a young age, his parents moved to his mother's homeland of Scotland and while there, war broke out. Doug and his brother Ken, survived a North Atlantic crossing during "Operation Pied Piper" when British children were evacuated to the colonies. He was lucky to be sent to his grandparents in Golden, BC. While in Golden he found his first passion, fly fishing, and deepened his love of the outdoors from his Grandfather. In his early twenties he cycled from Vancouver to New York, hopped on a ship and found himself in Switzerland where he honed his next passion, the love of skiing. Back in Canada, he found his next passion, Carmen, who he always joked that she skied better than he and who he spent the next 28 years raising 6 kids on the slopes of Mt. Norquay.  A purchase of a "Sea Spray" sailboat, ignited another passion…love for sailing and moved to Vancouver Island. Carmen's illness brought them back to Banff, and after her death immersed himself with the 1988 Olympic Alpine Events where he was Chief of Races. An invitation by his old friend Rudi to assist guiding heli-skiing brought him back to Golden where he met Marijke. For the next 30 years they split their time between sailing the Inside Passage out at the coast and Golden, where he could be found in his workshop. He could build, fix and design – anything.   A creative innovator, self taught engineer and a detailed craftsman, he would execute all of this with quiet confidence and undying enthusiasm and if you had the privilege to work or be around him, you would also experience his passion to share his knowledge with you. He inspired you today – to be a better person tomorrow. His was a life well lived, and he was well loved.  Doug was rarely without a smile or without radiating such a genuine passion for life.  Doug was an exceptional outdoorsman, craftsman and mentor and the wisdom of an old soul, led by example. Deeply loyal, noble, kind, loving and the perfect gentleman Doug Robinson leaves a legacy that is nothing short of inspiring. 
Doug was predeceased by his first wife, Carmen, in 1985. She was the mother to his 6 children; Wendy (Clint), Jill (Thom), Lorraine (Brian), Stephanie(Don), Rayto (Sandra), and Paul (Claudine). He also leaves behind his grandchildren, Jordan, Rory, Brady, Logan, Mackenzie, Arlo and Rowen. Also surviving is his second wife, Marijke, her daughter Marjan, her granddaughter, Juanita and her great-grand-daughter. And last but not least, his "adopted son", Jim(Lee). 
Doug wanted all his friends and family to have a Celebration of his Life and share stories of the good times. This event will take place at a later date.
---