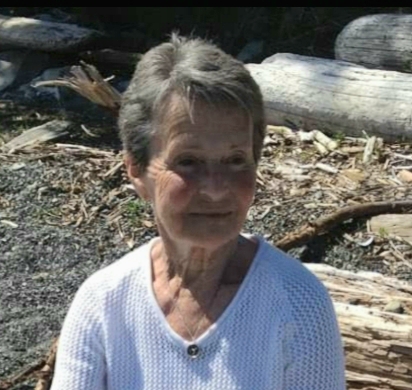 Angela Doris Rundle (nee Befus)
February 16th, 1946 – January 5th, 2023
It is with heavy hearts and great sadness that we announce the passing of Angela Doris Rundle on January 5th, 2023, at the age of 76 years. Mom passed peacefully at home surrounded by her loving family after a long and difficult battle with COPD and Dementia.
Angie was born in Leeds, England and as a baby moved with her parents to Calgary, Alberta where she grew up with her three younger brothers. After completing her schooling, she worked as a beautician for several years. It was then that she met her husband Brian – while commuting to work on the transit bus he drove.
Mom lived a simple life – her home was her favourite place to be and as long as she had her best friend and husband Brian of 52 years beside her – she was complete. Over the span of their married life, they had three children and four grandchildren who she devoted her life to. There was nothing she would not do for them. Along with her human family – most of the time – there was a beloved canine to pamper as well whether it was Sumi, Milo, or Mia. She worked for some time as a meat wrapper in Calgary – both for her parents' family business (Stampede Meat and Sausage Company) and later at Canada Safeway. In 1989 Brian and Angie moved the family to Victoria where she worked for Flameco and then for Pacific Fireplaces before retiring in 2012.
Mom and Dad enjoyed spending time together as well as with family and friends. Gardening, camping, fishing, playing cards, and bingo were some favourite pastimes and occasionally donations were made to the local casino where Mom enjoyed the slot machines. Some of her favourite times were spent outside in her courtyard quietly admiring her flowers, feeding her pet squirrels, and enjoying all her wild birds. Towards the end of her life, she found pleasure in long car rides and spent many hours sitting in the car beside the Victoria International Airport watching planes take off and land.
Angie was pre-deceased by her parents Ivan and Doris Befus (2001) and is survived by her husband Brian; her children Kim (Graham), Jason (Michelle), and Troy; and her grandchildren Caleb (Cedar), Hannah (Jonas), Serenity and Summer. She is also survived by her close siblings Glenn (Darlene), Don (Bonnie) and Bev (Sherri) along with many nieces, nephews, and cousins. She will be missed by everyone who knew and loved her.
In lieu of flowers donations can be made to the BCSPCA, the Alzheimer Society of BC, or the BC Lung Foundation.
A celebration of Angie's life will be held for family and friends on Sunday, February 12th, 2023, at 2:00pm at her home (2150 Curteis Road, North Saanich). Please RSVP hutchie86@gmail.com by Feb. 5th if you plan to attend – thank you.
---